1st Vendôme Conducting Masterclass

6 to 9 July 2023

Direction: Daniel Gazon
---
This masterclass is intended for conducting students and music teachers with conducting experience:
→ 8 active participants maximum
→ free listeners welcome, depending on available space
---
Content of the masterclass

Theoretical part
SPECIFICITY OF THE MASTERCLASS
The proposed musical work will be based on a functional listening and an analysis that was developed by the conductor Sergiu Celibidache as phenomenology of music.

THEORICAL AND PRACTICAL FOUNDATIONS OF THE FUNCTIONAL BEATING TECHNIQUE
Through specific exercises, the fundamental importance of free arm movements for the immediate transmission of musical impulses will be experienced. The traditional beat patterns will be deduced from the natural metric relationships that form their basis. The adequacy between gesture and musical expression will be worked on using appropriate examples from the masterclass program.

Practical part
The active participants will conduct an instrumental group consisting of, alternately, two pianos, a quartet or a string quintet, with the most experienced instrumentalists. This will be an opportunity to apply the elements acquired during the theoretical part. In this perspective, the active participants will be asked to have prepared the works worked on (according to the scores for orchestra and not reductions) in such a way that they can conduct them without score.
---
Works studied

With two pianos
Brahms, Variations on a Theme by Haydn, Op. 56 [theme, variations No. 1, 2, 3, 4, 6, 7]
Ravel, Ma mère l'oye [movements No. 1, 2, 4, 5]

With string quartet / quintet
Frescobaldi, Fiori musicali, Op. 12, F 12 [No. 14, Canzon dopo la Pistola]
Komitas/Aslamazyan, 14 Pieces on Themes of Armenian Folk Songs [No. 1, 8, 9]
Mozart, Divertimento in F major, K. 138 [in full]
Skalkottas, 5 Greek Dances [No. 2, 3, 5]
---
Direction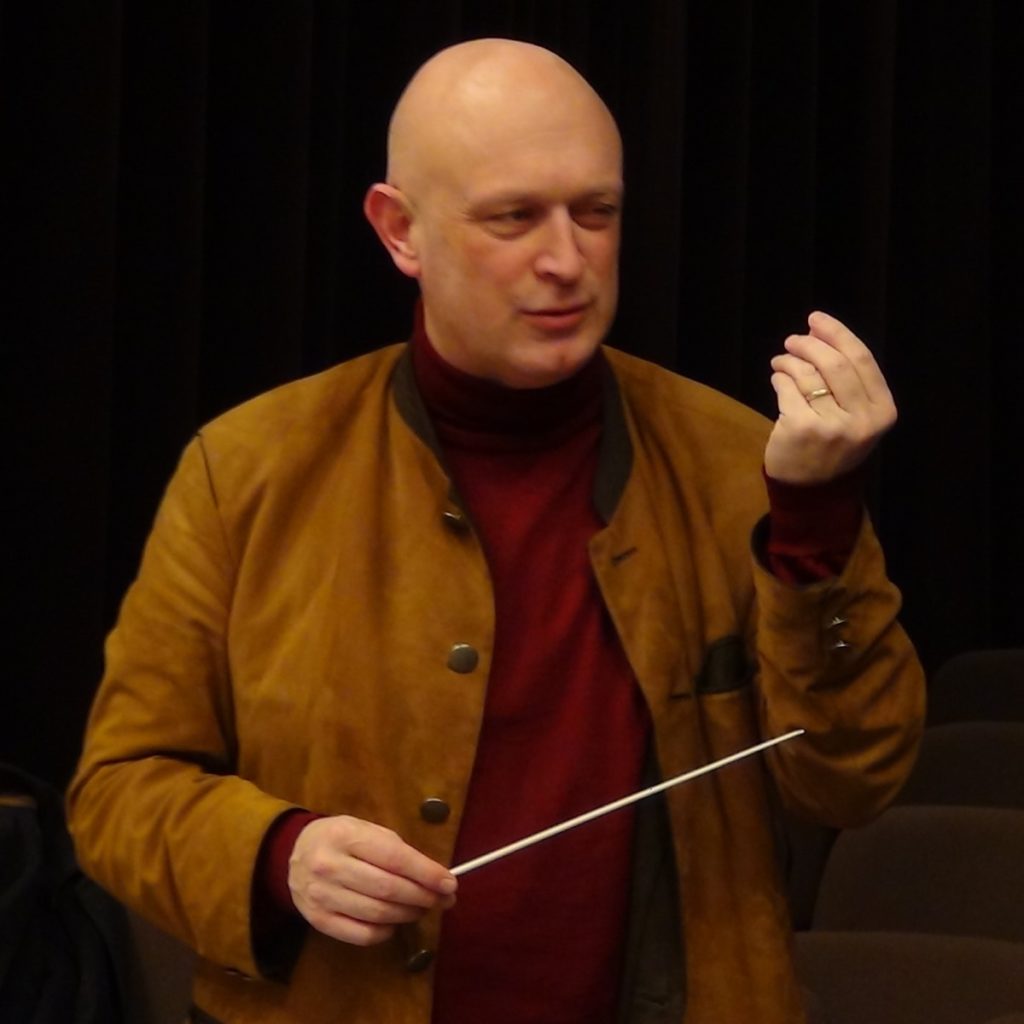 Daniel Gazon is a Belgian conductor and teacher. After graduating from the Royal Conservatory of Liège on trumpet and double bass, Daniel Gazon turned to conducting, which he studied with Igor Markevitch and Max Deutsch. After graduating in conducting from the International Seminars in Weimar and the Mozarteum in Salzburg, he was invited in 1984 by Seiji Ozawa to perfect his skills at the Berkshire Music Center in Tanglewood (USA), where he worked with Seiji Ozawa, Kurt Masur and Joseph Silverstein. His most decisive encounter, however, was with Sergiu Celibidache, whose courses in musical phenomenology and conducting he attended in Munich, Mainz and Paris, influenced his conception of music and teaching. Since 1985, Daniel Gazon has developed an international activity, mastering a very wide repertoire (both in the symphonic and operatic fields) which includes a large number of contemporary works. Invited to major festivals (ISCM, Melos-Ethos, Ars Musica, Düsseldorf-Kontrapunkt, Automne de Varsovie, Gaida), he has premiered numerous works by contemporary composers, while continuing his intensive activities as a teacher of conducting (Royal Conservatory of Mons, international masterclasses).
---
Admission requirements

Active participants
Participation fee : 650 euros

The 8 active participants will be selected on the basis of a dossier (CV, brief presentation of their musical experience and if possible a video in a conducting situation) to be sent before May 20, 2023 exclusively to the address masterclasses@orchestrehexagone.fr. Their registration will be final upon receipt of a non-refundable deposit of 325 euros to the attention of the association Un Air Entendu.

Free listeners
Participation fee : 150 euros

Auditors will be accepted upon request at masterclasses@orchestrehexagone.fr, depending on the number of places available. Their registration will be final upon receipt of the total (non-refundable) participation fee to the attention of the association Un Air Entendu.
---
Practical information

Languages used
French and English

Location
École de musique Territoires vendômois – Auditorium Bernstein
Cour du Cloître de l'Abbaye
41100 VENDÔME – FRANCE

Easily accessible from Paris by TGV (45 minutes, Montparnasse station) or TER (2 hours, Austerlitz station)

Planning
Thursday 6 July : 2 pm – 5 pm (two pianos)
Friday 7 July : 9 am – 5 pm (two pianos)
Saturday 8 July : 9 am – 5 pm (string quartet)
Sunday 9 July : 9 am – 5 pm (string quintet)

Accomodation possibility

An accessible accommodation solution is proposed (in priority to active participants), in addition to the participation fee.

Single room (with shower and toilet, sheets included, internet): 45 euros/night
Shared room (with shower and toilet, sheets included, internet): 26 euros/night

Contact